About
Production of Bridgestone Conveyor Belts started in 1945. Since then, they have been installed in countries all over the world including India. Bridgestone Conveyor Belts have demonstrated their reliability and durability by serving on critical conveyors where downtime is very costly.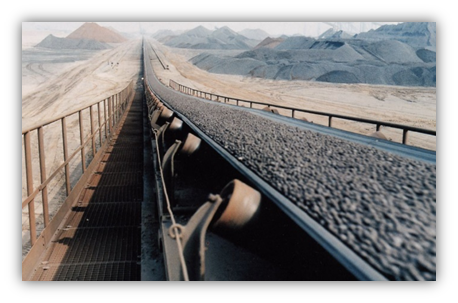 Steel Conveyor Belts
Pipe Conveyor Belts
Special Compound
Steel Conveyor Belts
Bridgestone have almost 50 years of successful experience in manufacturing and supplying conveyor belts. Due to the high tensile strength of the belts longer span length is possible, making the conveyor system more efficient and suitable for mass transportation.

Applications / Supply Record
Overland Conveyor- Belt length 31.4km single flight conveyor in Africa
Primary Crushing -With extremely severe conditions
Bucket wheel excavators- For overburden removal
Incline Conveyors- From underground to above
Yard Conveyors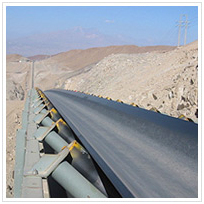 Trough Conveyor Belts
Pipe Conveyor Belt
PIPE CONVEYOR is a modern and environmentally friendly transport system solving numerous problems associated with conventional conveyor system, i.e. spillage of materials, limitations with regard to steep incline and curve layout, etc. PIPE CONVEYOR also manages to transport difficult materials, i.e. powder and/or materials that are similar to liquid. BRIDGESTONE is the pioneer of the PIPE CONVEYOR system since acquiring patents and rights from Japan Pipe Conveyor Co. Ltd. in 1987 and has around 1000 supply records worldwide since the 1980's.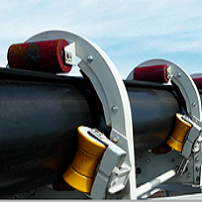 Application & Benefits
Pipe conveyor belts are used for enclosed material transport. After loading in the conventionally troughed belt, the belt is formed into a pipe shape with overlapped belt edges. The material is then completely enclosed by the belt. A key advantage of closed pipe conveyor belts is their highly flexible design, which means they can be built to follow the contours of any landscape. Pipe Conveyor has been used in various industries including power plants, steel mills, cement plants, refineries, bulk terminals etc.
Special Compound
Cut & Gouge Resistant Compound - FXS
Belt surface condition where Bridgestone FXS should be selected. Bridgestone Cut & Gouge resistant compound FXS is Bridgestone original compound specially developed for large hard rock ore transportation. Since the first introduction to market, FXS has been recognized as an optimum compound for Cut & Gouging operation among hard rock mining markets in the world. The Bridgestone success of FXS compound development is attributed to skilled R&D technology with regard to rubber compound development and high-tech simulation technology.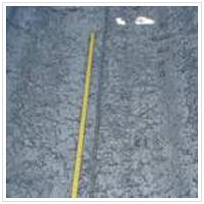 High Abrasion Resistant Compound - UAR/SXEW
Stacker/Reclaimer at ports is a typical line where UAR high abrasion resistance is required. Bridgestone High Abrasion Resistant compound - UAR - is Bridgestone original compound specially developed for transportation of small but highly abrasive materials. Its name "UAR" is the abbreviated name of "Ultra Abrasion Resistant" compound. Since the first introduction to market, UAR has been recognized as an optimum compound for high abrasive operation among various mining and port markets in the world. SXEW compound is customized model of UAR compound to suit specially the SXEW process at copper processing plants where conveyor belts wear out rapidly.
Heat Resistant
Bridgestone Heat Resistant compounds are advanced compounds suitable for transportation of high temperature materials. The common specialty of Bridgestone various types of heat resistant belts is the high adhesion which prevents splice failure and separation. In addition to its high adhesive property, several special features are added to each type of Bridgestone heat resistant belts.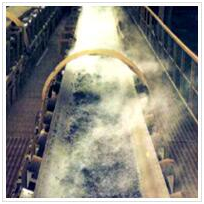 Flame Resistant Compound
When belts are used in places not easily accessible, it is important that fire risks are eliminated whenever possible. Bridgestone offers flame-resistant belt depending on customer's operational conditions.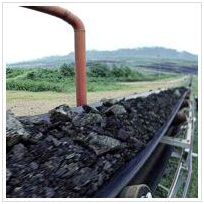 Stick free Compound
When the customer transports sticky materials such as clay, nickel ores, moulding sand, coal etc. and has trouble with adhesion of ore to the return side of the belt, we recommend using our conveyor belt with "Stick-Free Rubber".